MIDNIGHT UPROAR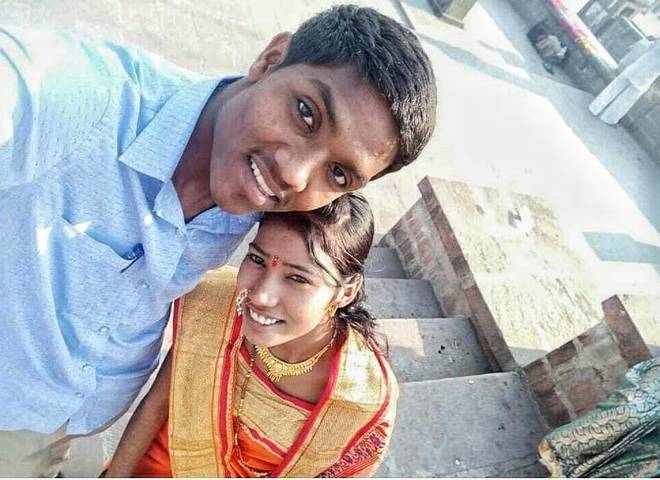 This story originally written by Krupasagar Sahoo in Odia has been translated by me (Priya Bharati).
The telegram carried the message, "Grandmother has passed away. Come immediately." Sadananda boarded the Utkal Express at twelve thirty and proceeded to his village.
After arranging his luggage under the seat and sitting at ease, he could not help but giggle. From the time he had received the telegram, he had tried to suppress his smile. A passenger sitting opposite his seat looked up puzzled from the magazine he was reading. This made him straighten his face. For courtesy sake, he asked a few questions to his co-passenger like "Where will you go? Where are you from? And tried to make a serious face but the crease of his smile was still peeping from the edge of his lips.
After receiving the telegram, pulling a long face, cautiously entered his boss's chamber with a leave application along with the telegram. His always grave looking boss looked at them when he got intermittent respite from phone calls and said, "Oh! I am sorry. You can go." He came out of his office as quietly he had entered and congratulated himself for the faultless act of an innocent sullen grandson.
Sadanand's grandmother had died when he was a baby. He could not remember her face now how much ever he tried. He had taken a long leave a month ago and had gone to his village. This telegram was the brainchild of his, his newly married wife along with his sister lest he may be denied leave.
The leave of a month that he had taken previously was for his own marriage. Fifteen days were spent in inviting friends and relatives, buying new clothes, arranging cars, bus and band party for marriage. After the marriage was over, some more time was spent on overseeing guests and relatives leaving, returning back the things brought on rent. He finally could spend barely a week time all for himself intimately with his bride. Being a new employee to this job, he could not extend the leave period and went back to his place of work.
Oh! those seven memorable days. It seemed as if spring had come back out of turn. His village seemed like Vrindavan the abode of Lord Krishna. It was as if honey dripped from the blossoms of mango buds. The crows on the drumstick tree had the sweetness of cuckoo bird. The hens and cock roaming near the fence seemed like dancing peacock and peahen. Every moment spent was electrifying and romantic.
He felt like the loneliness of a desert now after returning. He could not concentrate on anything he did. The memory of those romantic nights made him restless. To find respite from this pain, he wrote letters to his wife. These were not exactly letters but long love poems. The memory and longing for his new bride made him feel low and disoriented at times. Her invisible hands seemed to invite him with outstretched arms like the rays of the moon and sometimes it seemed to embrace him like the grip of a python.
Just the thought that he would be released from this pain made his mood upswing. The happiness of homecoming made him forget the distance that he was traversing by train, bus and hand-pulled rickshaw. The din and noise of his co-passengers could not penetrate his ears. He could not even distinguish the weather outside and types of birds sitting on the trees at the roadside.
The moment he stepped into his home, to his utter surprise, his home was filled with relatives from far and near. As far as he could remember, these many had not gathered when his grandmother had actually passed away. The whole house bustled with activity and noise of men talking loudly, women gossiping, children laughing and crying, helpers running around with their errands. These families had occupied every room of his house including his bedroom.
The crowd had gathered here to take part in the Ram Navami festival. This occasion is celebrated for 3 days with pomp and show in his village. All friends and foes come together on such occasions. Sadananda realized the reason for such crowd in his house and his wrong timing of coming home to be with his newly married wife.
He had not found sufficient time to decide what gift he would bring for his wife but finally zeroed down on the famous Kosa silk saree of that city. Coming from Bilaspur to his village in Odisha, the train crossed three states. He had spent eighteen hours traveling time to reach here but on reaching did not get the scope to meet his wife privately to give her this first gift.
Sadananda felt irritated. The large family crowd stationed at his home seemed like a soldier clan. His mother and his wife were too busy serving them. His mother had come to him for a moment to tell him to freshen up and take his food. But besides seeing a little bit of her saree or hair or hearing the bangles and leg anklets chiming, he could not see his wife from close.
In the afternoon, he entered his younger sister Nirupama's study room. His elder sister Anupama was taking rest with her two kids and his younger sister was sitting on a chair and reading a novel.
Seeing him with a knowing smile Anupama asked, "Have you been able to meet your wife?"
Sadanada gave a smile and came out of that room. His younger sister teasingly asked, "Can I be of any help?"
He called her to the veranda with a nod and asked, " Do I have the privilege of seeing my wife today?"
His sister mischievously asked, "What work do you have with her in the daytime?"
"I doubt whether I will be able to meet her at night. Our bedroom has become a railway station waiting room."
Suppressing her smile she said, "Maybe you are destined for this."
'Ok', he said releasing a deep breath and was about to leave the place.
"Nirupama called him from behind and said, "Every problem has an answer just like the false telegram sent to you. But for this, I need some special incentive."
"You will definitely get your reward for this endeavour. I have brought a Kosa silk saree for you."
"No, I do not want a saree."
"Why if you do not want to wear it now, you can wear it in your marriage."
"I have nothing to do with marriage."
"Why after me it is your turn to get married."
'No, I want to do a job. I need a fine watch. I have my final exam this year also."
"OK, I will get it for you in my next visit."
"Sure?"
"God promise."
In the evening, all guests became ready to go to the village fair. Sadananda had to go with them as their guide. He proposed that his wife could also come to see the fair. That was immediately turned down by his mother. 'What will the women of the village say seeing the newly married bride wandering like this? When the chariot carrying the deity will visit each house, she will automatically have the opportunity to see it. Whatever little hope Sadananda had of meeting his wife was gone.
Nirupama his younger sister was tempted to go to the fair but somehow retrained herself as she had to make her plans ready so that her brother and sister I law would be able to meet somewhere. He whispered her plan of action to her sister in law. Both smiled and waited for the opportune moment.
To the west of the village, on top of a hillock was a monastery(matha). It was surrounded by tall trees. In its courtyard were flower plants to cater to the need of the monastery. The main deity worshipped here was Lord Ram. Every year Ram Navami was celebrated with great pomp and show. The statues of Lord Ram with Laxman, Sita and Hanuman are taken out and kept in the outside veranda for villagers coming from far and near to pay their obeisance and prayers.
Just in front of the monastery was an even rock platform where the shopkeepers coming from far and near to sell their wares. Whole night Bondi dance and game of cards were played.
On the last day of the fair, the Lords chariot is taken throughout the village accompanied by the priest and villagers singing, dancing and playing bells, conch etc shouting, "Ramchandra ki jay, Sita Maiya ki jay, Pawan Putra Hanuman ki jay."
The guests returned from the fair and sitting in the inner courtyard were discussing the fair.
This year the circus party too had come to their village to be part of the fair. This news was revealed by Nirupama.
Children were busy showing to one another what they had purchased and told about what they had eaten at the fair.
The elderlies were discussing the state of agriculture, wage hike of daily wage workers, scarcity of labourers in village, politics etc.
The young ones have had their fill were busy playing with their nicknacks creating a din and uproar.
Sadananda felt as if the fare had shifted from the matha to his courtyard.
Nirupama taking advantage of his din called his brother near the guava tree and explained to him her plan.
The children after having their dinner went off to sleep. It was already late by the time cooking was complete. The male members were served food first. After that, the ladies were called to have their fill. They were in no mood to leave their gossip and evening snacks had not yet made them feel hungry. The lengthened gossip session made both Sadanada and Nirupama exchange uneasy looks.
Tonight it may be past midnight by the time the household chores would be over. Nirupama sighed to herself softly, "My poor dear brother."
Two of their relatives had parked themselves in his bedroom and had decided to have a look at the things given to the new bride by her father.
Sadananda was alloted space to sleep in the study room. He was pacing there like an angry bull.
Nirupama was sending chits to her brother and his wife. The updated news was, " I have put the ladder".
Both his brother and his wife came out cautiously and climbed the ladder to go to the roof. The last instruction for Nirupama was, " Be on guard."
"Your time starts now." You have only one hour time. She waved at them suppressing her smile. There was a huge guava tree in the backyard adjoining the house. It bore fruits round the year. Sadananda used to play with his friends on its branches. During Raja festival, rope swings would be tied to its branches for girls to play.
Nirupama stood leaning on this guava tree in the dark. There was silence all around. The crescent-shaped moon looked like a kite through the cumulonimbus clouds.
Sarojini stood up on the terrace. The pallu of her saree was blowing like a flag.
Sadananda told her, "Don't stand, someone might see you."
"Who will be awake at this time to see me?" She asked.
Sometimes people play cards on the adjoining terrace.
Both of them sat down touching each other.
"Where were you hiding during the day?" he asked
"Did you not see me slogging like a servant whole day?"
"Did you not find time to come near me?"
"So many eyes were hovering? Why did you choose this time to come home?
"Staying away from you was so difficult that I forgot that time was inappropriate."
"OK. Now tell me what have you got for me?"
"You do not have time to come and see. I have brought the famous Kosa saree from Bilaspur."
"I have got so many new sarees for marriage. You should have brought something different."
"OK. Next time I will bring something special for you. You will look like a beauty queen."
Sadananda kissed her lightly on her cheek. She replied in a reproachful tone, " Do I have to stay in the village away from you?"
"Oh! You want to come with me to Bilaspur. Let me talk to my mother inappropriate time. Last time she had refused as she wanted the new bride to stay here with her for some time." He kissed her again. This was sufficient to make her passionate.
As the night progressed, the moon hid behind the clouds and darkness descended. The screeching of night bird added to the setting. The stars were clearly looking down witnessing the night scene.
Suddenly there was load shedding. The night looked darker. The fans stopped moving. Anupama's children cried out loudly. That was sufficient to wake everyone.
Just then their uncle said, "Let's go to the terrace. The mosquitoes will not let us sleep. Yes said another voice. Let's take a mat, pillow, and bedsheet and go to the terrace."
Nirupama hearing this did not know what to do. "Probably his brother and sister in law were fast asleep. What would happen to them if my uncles go to the terrace? My brother and his wife will not be able to face anyone.
Nirupama climbed the guava tree. Two bats fluttered their wings and flew away. She plucked two guavas and threw them on the terrace. There was no response.
Gradually the family members came out and gathered around the guava tree.
One of them remarked, "Where is the ladder to the terrace?" I had seen it here in the evening. One of them went to bring another ladder. Nirupama started shaking the branches. This would make the family members standing below frightened and also wake up his brother.
But his uncle was not a person to back down. He said, "Bring the torch. Either there are bats or
monkeys on the tree.
Nirupama had no other way. She decided to climb the tree and go to the terrace. But while doing this she came face to face with a monkey. The monkey after its days activity was fast asleep. It had no energy to see what was going on on the terrace. They came face to face and she could see from close angle his two eyes sparkling.
Nirupama jumped down and utterring ghos----, ghost fell down unconscious.
The dogs started barking loudly. Children started shrieking loudly.
This hue and cry was sufficient to wake up the whole village and they gathered outside with the choukidar blowing his whistle.
By then Nirupama had got back her senses.
The villagers started their uncalled for advice.
"Probably the ghost has entered her."
"It must be a witch."
Lets call the gunia (magician).
There was unanimous consent for calling the village magician.
Meanwhile Sadananda and his wife had woken up hearing the commotion and hustle and bustle, arranged their clothes and came down stealthily and mingled with the crowd.
Sadananda was heard shouting to the crowd to disperse, ordered the lantern to be lighted and told them to bring Niru inside.
Sarojini started fanning her. Nirupama opened her eyes and looked at her brother and his wife then closed her eyes and shook herself as if her body was having rigor. This time is was not out of fear but to give a romantic climax to her acting.
Nirupama's mother started wailing loudly. The other women were consoling her. The menfolk were pacing briskly waiting for the gunia (magician) to come.
Buchhua Gunia(magician) was looking after the cow heard of the villagers. One day he declared that The village God had entered his body. From then on his started giving various roots and herbs to cure villagers, gave amulets to villagers to ward off evil, to ward off Goddess which may have entered any villagers body. Whether there was theft of paddy from any villagers house or a calf has gone astray or there is a snake bite, he was called.
Sadananda knew Gunia and his tactics very well. He called him to one side, gave him a fifty rupee note and said,"Uncle, she is just frightened, do not beat her."
Bichhua understood the situation and was happy to get money to cater to his narcotic requirement for one week. But he had to perform his act of warding off evil in front of the family members. He ordered a few things to be brought, closed the door and started beating his broom here and there. Shouted, "Go ghost, witch whoever has entered her, leave her and go away." Saying this he threw water at her face.
It was almost dark inside the house. Gunia in his act of warding off the evil had kicked her two thee times. Nirupama shouted,"Maa lo mali, maa lo mali", and rolled on the ground. By then the electric current had resumed. Nirupama stopped shaking. Gunia while leaving announced, " She had gone near the guava tree to urinate, the Goddess had entered her then. Now she is OK.
The family members were relieved. They offered him rice, vegetables, and twenty rupees.
It was morning by then. The village crowd had still not dispersed. The villagers were still thinking of the previous night episode and drawing different conclusions. The village lass taking bath in the pond inferred that she had not gone out near the guava tree to urinate but to meet her lover on the terrace.
And who was her lover?
It was Bidyadhar the boy who was coming to give her tuition said, someone.
This gossip was propagated by some who could not tolerate the members of this family.
Two boys sleeping on the adjoining terrace gave feather to their imagination and retorted that they had seen two shadows in the adjoining terrace and had heard someone jump. This had led to the dogs barking together for some time.
Some villagers wanted to find out more of this rumour. They reached Bidyadhar's house. His mother said, he was away to Bhubaneswar to give an interview.
Within no time the rumour reached Niru' mother. She fumed and cursed all those maligning her daughter's character. She had sympathizers around her who too cursed them saying that Niru was above all this.
Nirupama was by nature a tomboy. She played with boys and did not hesitate to thrash them if necessary. It was difficult to believe that anybody could fall in love with her. But nothing was impossible especially for grown-up girls of her age.
There was heaven and hell status difference between Nirupama and Bidyadhar's family. Nirupama was the daughter of a zamindar while he was the son of a widow working maid servant. Though he was a good student, yet he had not got any job yet. After completing Bachelor's degree in science, he was doing tuitions to earn his living. Being the class mate of Sadaananda and on his request he used to sometimes come to coach her in Maths. He was known as a good and quiet boy with high integrity. Nobody in their family could have even thought that there was any other relationship between them other than a tutor and taught in their wildest dream.
Sadananda and his wife were now thinking how to get their sister Nirupama out of this soup.
Sadananda proposed to reveal the true fact about him meeting his wife on the terrace with the help of his sister. Sarojini was feeling guilty. Nirupama assured her by telling that just like wild fire spreading, this rumour about her too will die after some time.
Sarojini stroked her hair. Nirupama unable to sleep the previous night slept like a child on her lap.
It was the final day of the festival/mela. The villagers were ready for confrontation. One side was for Bidyadhar while the other side stood for Nirupama. There seemed to be a cold war between the two parties. The procession of the lord had two groups playing drums and other accompanists. Each group tried to out beat the other. Gradually the confrontation leads to a physical assault between two villagers. People had gathered outside to see the lords procession. Meanwhile, Sarojini and Niru were chitchatting away from the crowd.
Sarojini asked, "Niru, did you have any soft corner for Bidyadhar? Why is it that there is such a strong rumour going around?
Nirupama answered back emotionally, 'Even you are doubting my integrity.
Nirupama and Bidyadhar had a tutor and taught relationship. Bidyadhar was her brother's friend. On his request, he used to come sometimes to coach her in maths. He did not take any fee for that. Sometimes he used to eat the food served to him. He never used to look at her straight in her eyes. His gaze was always concentrated towards the maths book and the notebook. Most of the time he was busy solving problems. Nirupama had never found his behaviour anything other than a teacher.
She controlled her emotions and replied, " No I have no other feeling for him other than a taught while he considers me as his younger sister.
After this incident, ten days elapsed. Relatives who had come to see the Ramnavami festival had returned. The villagers seemed to have been pacified to a large extent. Nirupama's family tried to forget the incident of that night as a bad dream.
Villagers had gathered near the river bank to participate in the last right ceremony.
Just then a boat anchored there. Bidyadhar got down from it. He had qualified the Railway recruitment board exam and looked happy. He was wearing neat clothes and was looking like a son in law.
The moment he got down, some youths caught him.
"You are the root cause of all this rumour. You have maligned Nirupama's character."
"Bidyadhar was completely dumbfounded hearing this allegation. He stared at them and said, "I was not there in the village. I had gone away to give an interview.
Nobody paid any heed to his pleas. They shaved his head and carried him through the village in a procession.
"Your case will be judged in the village council. "
A child came running and shouted, " Wake up Niru Didi. The villagers have shaved the head of Bidyadhar Bhai and bringing him in a procession.
Everyone ran out to see the sight.
Nirupama was aghast seeing the condition of Bidyadhar. She felt it was her fault for which Bidyadhar had to face this in the hands of the villagers.
She ran into the house. Her brother and sister in law ran after her lest she may do something in hot haste.
Nirupama came out and shouted at the crowd, "Leave him alone." She put a garland she was holding around Bidyadhar's neck and touched his feet. Bidyadhar and villagers were too shocked to see all this. Bidyadhar exclaimed" What are you doing Niru?
Her brother shook her and said, "What did you do you fool?"