My Sojourn To The Coast Of Gahirmatha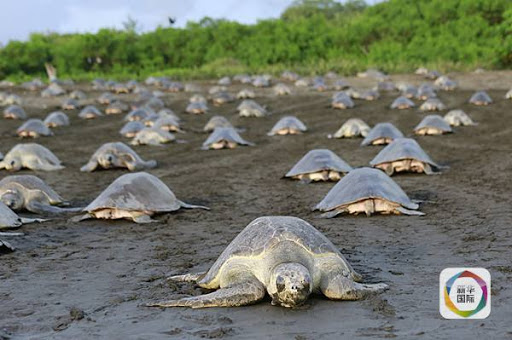 Every year I visit Gahirmatha on the coast of Odisha for mating and egg-laying also called nesting with lakhs of my friends. This is called Reproductive Homing. This mass nesting phenomenon is called Arribadas ( a Spanish word ) by nature-lovers.
Why do we almost 50% of the world's and 90% Of India's Olive Ridley visit the Gahirmatha coast, the dreamland for us?
What is so special about this place an expanse of around 30 km of the sandy stretch from Ekakulanasi Muhan ( river mouth ) to Maipura river mouth and Barunei Muhan to attract us? Some of us also travel to the beach at river Rushikulya mouth in Ganjam District.
It's low salinity due to the influx of water from rivers, its wide beach formed in October November during the retreat of Monsoon due to change in wind direction helps sand to get deposited to form this wide beach. Its gentle gradient towards the sea above the high tide mark, debris-free sand, and the compactness of sand with high moisture content and the right temperature and plentiful availability of planktons and variety of fishes for us omnivorous Olive Ridley, makes this an ideal place for nesting. We turtles can sense these conditions.
Large Arribadas occur between December to Mid February and between March to Mid April.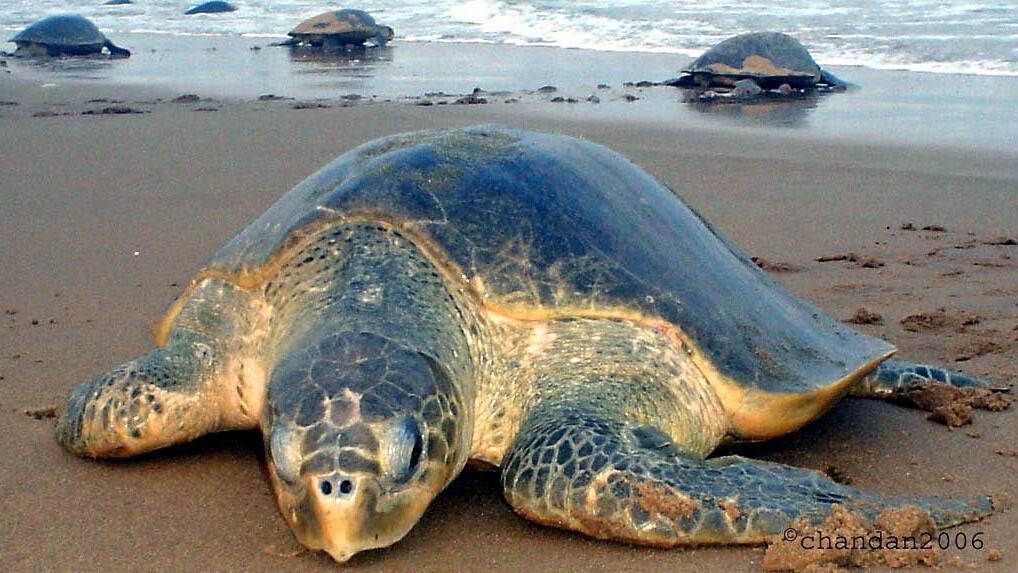 " I a mother turtle and thousands of others crawl from sea to land mostly in the evening and sometimes during the daytime when the weather is overcast and cool. We wait for the high tide. The tidewater pushes us towards the beach. I stood firm on the sandy beach with my fore flipper in resting position even after the tidewater receded. We have the sixth sense to judge if there is any disturbance or obstructions caused by humans, animals, or even due to natural phenomena. Then with a series of forward movements with my flippers, I crawl towards the beach. I press my fore flippers into the sand which gives my body an inward push. My movements are like that of a trained swimmer, pushing the water in a synchronized way to move forward. In between, I pause to take my breath. I select an appropriate spot to lay my eggs. I looked around. My friends are gradually occupying the entire expanse of sand. All are busy making their pits, laying eggs, and camouflaging them. My front flippers move vigorously and incoordination, to throw back the sand. In between, I rotate my body left and right to create a pit. The pit is still not of the right size for egg-laying. I raise the frontal portion upward with the help of my fore flippers. This allows my body to incline in my rear part. I now can dig deeper with my rear flippers. Finally, the base is broad enough for me to lay all my eggs.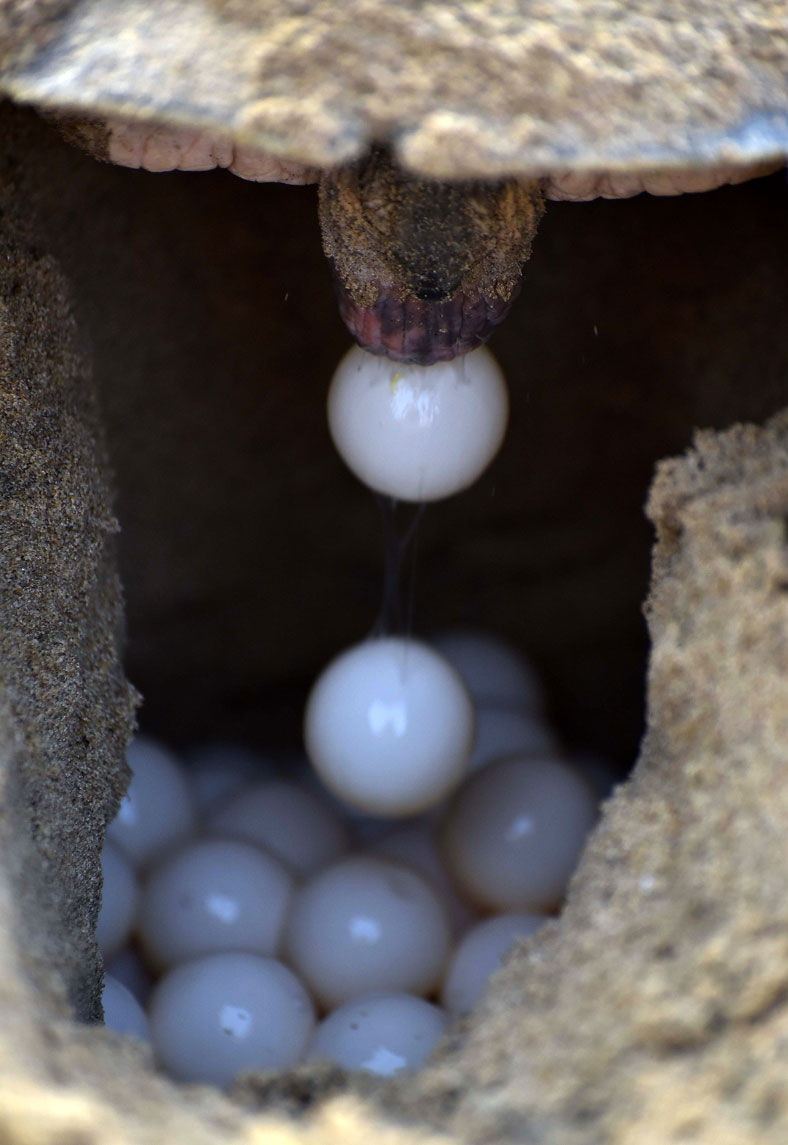 I lay around 100 to 130 eggs around midnight. I remain there panting for some time. Tears start rolling down from the salt gland near my eyes. This tear is from the exhaustion of my love labour, happiness, and lo! it also clears my eyes from sand particles.
My task is not yet over. After regaining my breath, I start covering the eggs with sand using my flippers. I then thump my belly over the closed pit to compress the sand properly. Wait! I have to make my eggs safe from predators. I create some more pseudo pits to camouflage my precious eggs.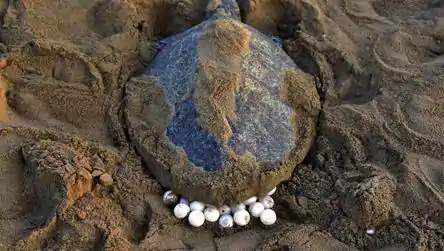 I return towards the sea tired but happy that my little ones are safe to hatch. I am still breathing heavily. The waves pull me into the sea. I know I will never see my young ones and they will never know who their mother is? But this is the law of nature. Mother nature and sea will guide and protect them in their life's sojourn.
Let me also share something interesting with you.
Our sex is determined by the temperature during the incubation period. Eggs incubated at a temperature of 31 - 32 degrees centigrade produces only females and at 28 degrees or less produces only males whereas at a temperature of 29 - 30 degrees centigrade, hatchlings are of both sexes ( 40% male and 60% female ) are produced.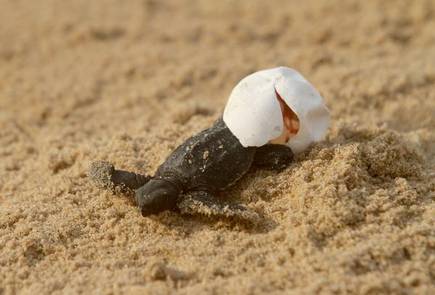 I am concerned about the survival of my little ones and our species as a whole.
I am aware that the threat to life is there at every stage. There will be dogs, jackals, feral cats, raccoons, mongoose, vultures, crows, and humans ready to eat our eggs.
The Arribadas or lakhs of turtles coming for egg-laying destroy many nests in search for a place to nest. So in a way we are the greatest reason for damaging the eggs laid by other turtles previously.
Our hatchlings are predated by hermit crabs, fishes, lizards, snakes, vultures, crows, etc.
The danger to life is not yet over. We are eaten by sharks, some varieties of fish like Barracuda, big sea turtles, whales, etc even after we become fully grown.
Trawlers and fishing nets to do not spare our copulating turtles and females swimming to the coast for egg-laying. They get entangled in the fishing nets and die.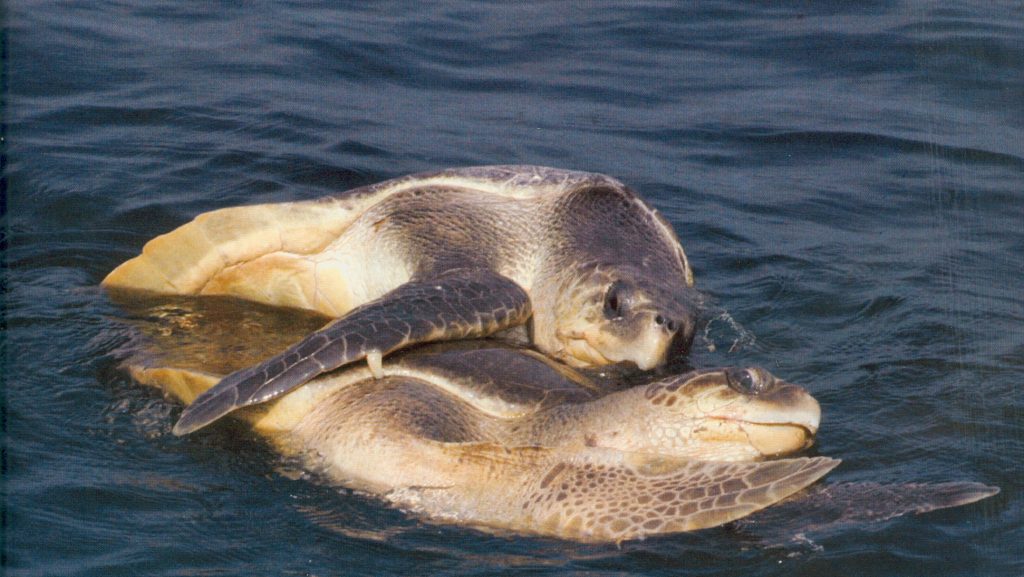 Every cloud has a silver lining. Things are not so bad after all. Due to the untiring effort of Dr. Bustard a scientist and nature lover, that this Arribadas of Olive Ridley came to be known to the outside world. The Forest Department of Odisha has declared this area a National Park ( Bhitarkanika National Park and Sanctuary ) and research and protection of our species has been initiated. Their personnel protects us from predators day and night patrolling the beach and keeping guard to ward off predators. Right from our copulation when a huge number of copulating pairs are found swimming passively in the surface current in low waters very close to the nesting site, they petrol the water to see that no trawlers and fishing boats operate in this area and we do not get entangled in fishing nets. Now we can safely come to the beach, lay eggs, and our little ones can hatch without fear of predators. They attach small sensors on our shell to monitor our path as to where we go in the wide ocean and how we come back, again and again to this same beach for nesting covering thousands of kilometers.
N.B - Images have been taken from Google and Copyright is with the owner.